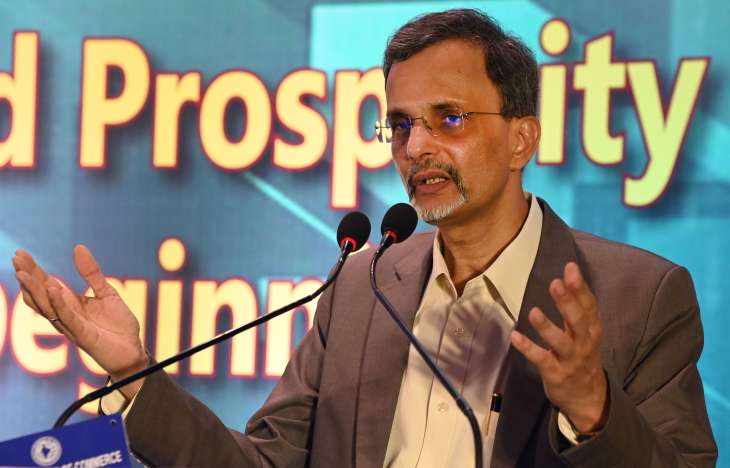 Chief Economic Advisor Dr V Ananth Nageswaran on Saturday hailed the projected 7.2% real GDP growth in 2022-23 and expressed optimism that growth will be higher once the final fiscal numbers stabilize in early 2026.
Nageswaran said the 7.2% GDP growth was an "encouraging achievement for the government and the economy" when he spoke at the event organized by the India Chamber of Commerce.
"More than the efforts of people like you, more than the government, we got real GDP growth of 7.2 per cent in FY23 as against 9.1 per cent in FY22," he said.
Nageswaran said India's GDP growth estimates have been presented six times, and "the final estimate for FY23 will actually be with us in January-February 2026".
"And it is my expectation and belief that when the final number for FY23 settles in February 2026, the number will be higher than 7.2 per cent," he added.
India's economy expanded at an annual rate of 7.2% in the January-March quarter of 2022-2033, according to official data released earlier this week.
The National Statistical Office (NSO) recently released provisional estimates that real GDP growth for 2022-23 stood at 7.2%, higher than the 7% estimated earlier.
Nageswaran said this is the first reliable estimate of GDP, and "as more data becomes available, there will be an upward revision of 7.2 per cent."
The CEA had earlier said that it expects an upward revision in the GDP figures for 2022 and 23.
Despite headwinds and key areas of strength for a more tight domestic monetary policy, various international agencies have set India as the fastest growing major economy in 2023-24, on the back of strong growth in private consumption and support in private investment. because of.
Read this also | India tops world ranking in digital payments in 2022, surpasses these countries including China
read this also , Life insurers report 4.1% decline in new business premium in May; LIC records 11.26% fall: Data