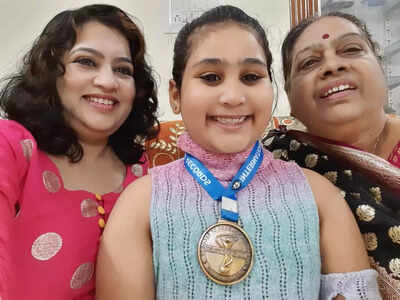 L-R, Her mom, Mysha, grandmom
Bengaluru:Mysha Mishra, a 6-year-old from the city, has set a record by solving the 3×3 Rubik's cube in 2 minutes 3 seconds while answering 12 maths questions through mental calculation. A student of National Public School, Yeshwantpur, Mysha set this record recently. She is also interested in drawing and classical dance.
Speaking to TOI about how her daughter developed an interest in mental mathematics at a young age, Nidhi Mishra said, "I am a proud single mother and I have been raising my daughter on my own for the past three and a half years. My own mother has been a strong pillar of support for us. When my daughter used to go outdoors to play, the stigma she faced pushed her inside the safety of her house. That is when I began using her academic subjects, such as maths, as a tool for expending her energy."
In doing so, her daughter developed a strong understanding of the subject along with some tricks to solve mathematical questions in seconds. Nidhi, a bank employee, devoted her time towards her daughter's studies before helping her learn how to solve the Rubik's cube. Mysha has received recognition from a local book of records. Still too young to know for sure, Mysha's dream for her future keeps changing. Most recently, she wished to become a scientist specialising in the study of animals.
FOLLOW US ON SOCIAL MEDIA
FacebookTwitterInstagramKOO APPYOUTUBE