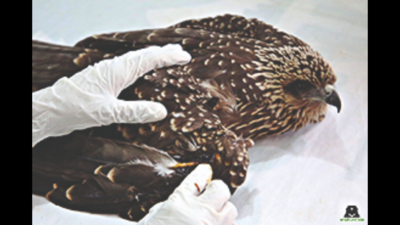 He had to call the sky lift to reach the bird.
AGRA: A juvenile black kite, which was caught in a deadly glass-coated Chinese 'manja' (kite string) and was found hanging from a tree in Agra's Chpitola on Wednesday, was handed over to the Wildlife SOS Rapid Response Unit (RRU). was saved by , At present it is being kept under observation and supervision and it is likely to be released in the next 10-16 days.
A two-member team of RRU said that the Chinese 'manja', which has been banned, was tangled around its wings and legs as it was hanging from the topmost branches of a tree in Chhipitola Tola. He had to call the sky lift to reach the bird. A pole was then used to gently move the bird without unnecessary pressure.
The team worked in coordination with the members of the forest department and the municipal corporation to carry out the rescue operation that lasted for about an hour. Once removed, the kite was immediately taken to the Wildlife SOS Transit Facility for medical intervention.
The black kite (Milvus migrans) is a medium-sized bird of prey. It is considered the world's most abundant Accipitridae species, although some populations have experienced dramatic declines.
Follow us on Social Media