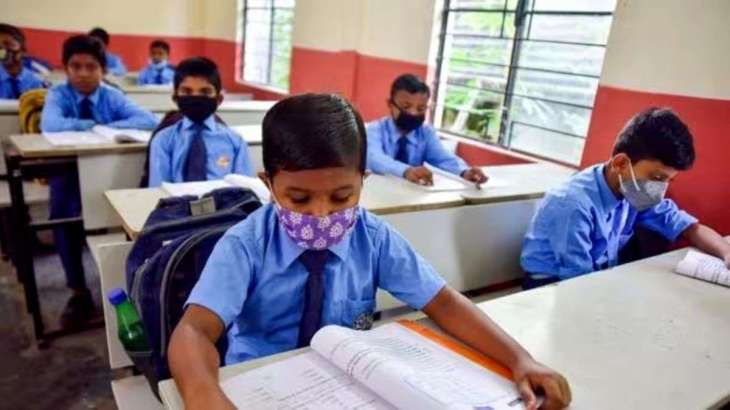 The Bharatiya Janata Party on Thursday accused the Delhi government of setting up 'I love Manish Sisodia' desks in government schools, a charge strongly denied by the AAP.
Sisodia resigned from the cabinet following his arrest by the CBI in connection with alleged corruption in the formulation and implementation of the now-cancelled liquor policy for 2021-22. Earlier, the leader had held 18 portfolios in the Delhi government including education.
Delhi BJP spokesperson Praveen Shankar Kapoor said it was regrettable that even after Sisodia's arrest, the Delhi government "isn't stopping its dirty politics in the name of education and has now stooped to the extent of involving innocent school children". "
In response, the Delhi government issued a statement saying, "There is no involvement of any government department or government employee in any such activity. It is just BJP's agenda."
The BJP leader said, "Under the patronage of the Delhi government, special 'I love Manish Sisodia' desks will be set up in government schools to forcibly garner support for Sisodia from students." He further said, "Delhi BJP strongly condemns this dirty politics of forcing school children to support Sisodia and urges that this 'I love Manish Sisodia' desk scheme should be ended immediately."
Meanwhile, senior AAP leaders shared messages written by students for Sisodia.
Atishi, who will soon be inducted into the cabinet as a minister, shared pictures of the messages on Twitter. He said, "BJP people: No matter how many false allegations you make, but you cannot shake the love that the children of Delhi have got for Manish Sisodia."
Jasmine Shah also retweeted similar messages and said: "Wow… Delhi kids showing unprecedented love for their favorite education minister with #ILoveManishSisodia messages." However, Kapoor urged Delhi Lieutenant Governor VK Saxena to stop the campaign in a tweet.
In another tweet, the BJP leader tagged NCPCR president Priyank Kanungo and alleged that parents were being pressurized by AAP to write such messages for Sisodia. "@NCPCR_ & @KanoongoPriyank ji please see how shamelessly AAP is campaigning for Manish Sisodia by pressurizing govt school students. Parents are being pressurized to write letters otherwise students will be failed in exams Will go."
Read this also | Liquor scam accused Manish Sisodia has applied for fresh bail in Delhi court.
Read this also | Aam Aadmi Party to hold 2,500 'Nukkad Sabhas' in Delhi after Manish Sisodia's arrest