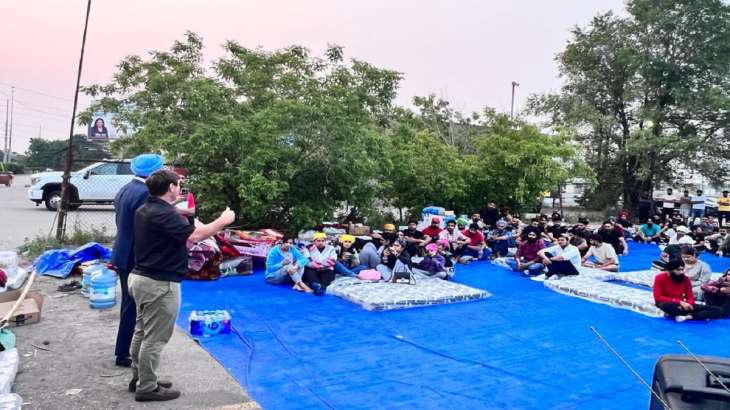 In a major relief to Indian students protesting in Canada, the deportation of 700 Indian students has been put on hold until further notice. The Canadian government has decided to deport 700 Indian students on the request of Aam Aadmi Party MP Vikramjit Singh Sahni, who is also the International President of World Punjabi Organisation.
Indian students, mostly from Punjab, are facing deportation after authorities in Canada found fake "admission offer letters" to educational institutions. The matter came to light in March when these students applied for permanent residency in Canada.
Deportation of 700 Indian students has been put on hold
Sahni said on Friday that the Canadian government has decided to stay the deportation of 700 Indian students. "We have written to them and we have explained to them that these students have not committed any forgery or fraud. They are victims of fraud as some unauthorized agents have issued fake admission letters and payment receipts. Then when the children reached there, the immigration department also allowed them to go inside." Vikram Sahni said. He said, "The students have not done any mistake. They have also become victims of fraud."
The students were duped by Brijesh Mishra, a consultant from Jalandhar, who sent them to Canada on the basis of fake offer letters from premier colleges and universities.
Punjab minister sought intervention from the Center
Earlier, Punjab NRI Affairs Minister Kuldeep Singh Dhaliwal sought the intervention of External Affairs Minister (EAM) S Jaishankar in the matter. In a letter to Jaishankar, Dhaliwal also sought an appointment with him on the issue. Dhaliwal said, "I have also sought an appointment with the External Affairs Minister so that the entire matter can be personally brought to the notice of the Government of India."
In a letter to EAM, Dhaliwal said, "These (700) students are innocent and have been duped by a gang of fraudsters…". Dhaliwal wrote, "I would be very grateful if you would personally look into this matter again and take up the matter with relevant agencies including the High Commission of Canada and the Government of Canada so that these students can be saved from being deported."
Dhaliwal also appealed to the people of Punjab to check the details of the college and the record of the travel agent before going abroad or sending their children for studies.
(With ANI inputs)