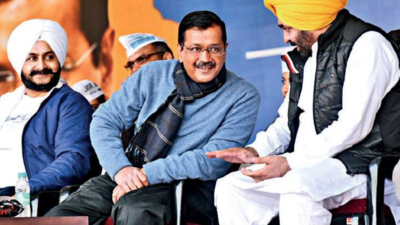 AAP chief and Delhi Chief Minister Arvind Kejriwal shared a light moment with Bhagwant Mann in Chandigarh on Sunday
Chandigarh: No corruption. End of Dadumajra garbage dump. Free water supply. CCTV cameras. Home visit by municipal employees.
These were the five promises made by Delhi Chief Minister Arvind Kejriwal to the residents of the city on Sunday when he won the civic polls on December 24. "We will put in place a system where residents will not have to come to the MC's office for any work; Employees will visit their homes.
We have done this in Delhi. We provide services like water and electricity connections as per the convenience of the people, even at 10 pm," the AAP supremo said at a public meeting at Dussehra Ground in Sector 43.
Congress, BJP have spoiled the beauty of the city: Kejriwal
Kejriwal said, you ask your relatives in Delhi about my work and if you are convinced, make sure that you get all the votes in your street. Focusing on the youth, Kejriwal said that most of the AAP candidates were below 40 years of age. "We want the youth to come forward and take charge of the city," he said.
Taking a jibe at the Congress and the BJP, Kejriwal said that once upon a time Chandigarh used to be the most beautiful city in Asia. But both the parties made the city dirty. Today Chandigarh has reached 66th position in terms of cleanliness.
Taking a jibe at the BJP, Kejriwal said that the Mayor, Governor, Home Minister and the Prime Minister are from the party, but still the situation in Chandigarh is deteriorating every day.
Referring to a rumor, Kejriwal said, "I have received news that the central government is planning to hand over Chandigarh to Punjab soon. If this is true then after few months AAP government is going to be formed in Punjab and Chandigarh will be part of Punjab. Voting for BJP and Congress will then be pointless.
Punjab AAP President and MP Bhagwant Mann, Chandigarh's co-in-charge Pradeep Chhabra also addressed the gathering.
FacebookTwitterLinkedinE-mail
,