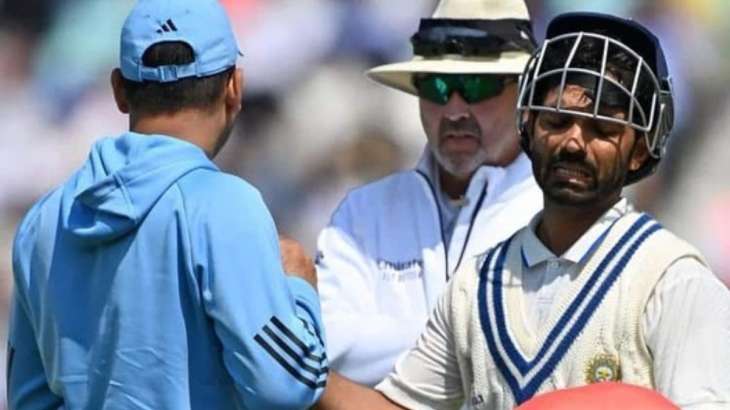 Ajinkya RahaneA special innings of 89 revived India's return to the final of the World Test Championship against Australia. After the 469 mark, Rahane and Shardul Thakur led India's task of survival with the bat after the top four batsmen fell cheaply. Meanwhile, the former Indian vice-captain didn't have an easy time in the middle as he injured his finger Pat Cummins,
Rahane, who sought medical attention after that painful injury, decided to continue after tapping his finger. Meanwhile, the cricketer's wife Radhika Dhopavkar penned an emotional note for Rahane and also revealed that the former vice-captain refused to undergo a scan on his swollen finger.
"Despite your swollen finger, you refused scans to protect your mindset and focused on batting, demonstrating incredible selflessness and determination. With unwavering resilience and commitment, you made your way to the crease, inspiring us all. I am always proud of your unwavering team spirit, my resilient partner. Love you endlessly! Rahane's wife wrote on Instagram.
Notably, Rahane's finger was hit by Pat Cummins on the second day of the WTC final. He immediately called for medical attention but kept on batting. After the end of Day 3, Rahane also gave a major update on his injury whether he would be able to bat in the second innings.
Rahane said on his setback and batting in the second term, "Painful but manageable. Don't think it will affect (my) batting (in India's second innings)." He also spoke openly about his innings. The 35-year-old said, "Happy with the way I batted. Good today. We were looking to get 320-330, but overall we had a good day. Bowling wise, we bowled well. Hit the boundary."
Rahane's batting partner Shardul Thakur also opened on Rahane's shock. "He (Rahane) got a bad blow on his finger. It doesn't look too bad, it is being assessed. He didn't go to the ground as it would have been risky and he had already fractured the same finger. Will definitely bat," said Shardul.