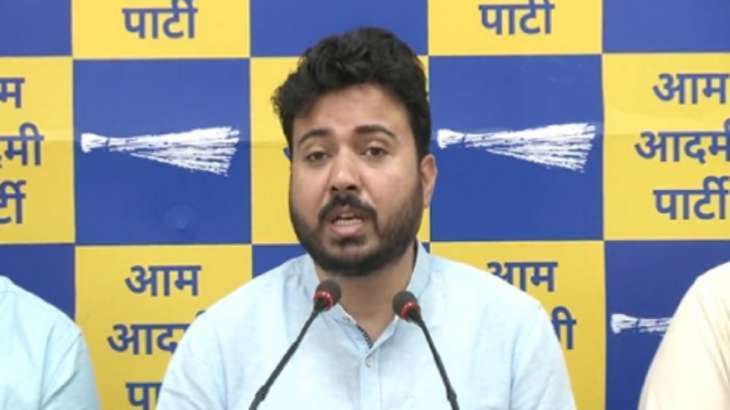 The Aam Aadmi Party on Sunday accused former Delhi BJP president Adesh Gupta and its former national vice-president Shyam Jaju of amassing assets worth crores of rupees. Adesh Gupta, however, termed the allegations as 'false and politically motivated'. AAP leader Durgesh Pathak said that the BJP should cancel the primary membership of Gupta and Jaju within two days, failing which the Aam Aadmi Party would hit the streets and lay siege to the BJP headquarters.
"Former state president and in-charge of BJP got a company (promoted by his sons) registered at the address of the party office… He has 40 to 45 properties in Delhi and neighboring areas. Lokayukta has sent him three notices but he Haven't responded yet," he alleged.
Demanding both the BJP leaders to disclose their source of income within two days, Pathak said that there should be a thorough probe to find out whether they have the support of the senior leadership of their party.
He said there should be an inquiry to find out whether there was any connection between the rise of the two leaders and the 'fall' of the Municipal Corporation of Delhi. AAP's chief spokesperson and MLA Saurabh Bhardwaj said the Lokayukta is probing the allegation of disproportionate assets against Gupta. Adesh Gupta did not declare his source of income, despite several notices issued by the Lokayukta. The company, promoted by the sons of Gupta and Jeju, is under scrutiny for allegedly being used as a vehicle to facilitate financial wrongdoing. Press conference.
Bhardwaj claimed that a complaint with the Lokayukta claimed that Gupta got the company incorporated when he was the mayor of North Delhi MCD and that his income is more than his declared sources of income. He claimed that Delhi Lokayukta Justice HC Mishra (retd) issued notices to Adesh Gupta from August 2022 to January 2023 asking him to declare his assets and sources of income, but he has not given any information till date.
"The Lieutenant Governor should write a letter to the Anti-Corruption Branch and the CBI on how these properties were bought and sold. The Center should conduct a detailed probe into the matter to prove whether it believes in the principle of anti-corruption or not." Reacting to the allegations, Adesh Gupta said, 'I will file a defamation case against Saurabh Bhardwaj. He has a history of making false allegations and apologizing to BJP leaders after defamation cases. Should be ready for.
"I respect the Lokayukta and will share all the details. Every year, I share my property details with the government. I am a dedicated BJP worker and have been exposing your corrupt acts and they are affecting me and my family are targeting to suppress." My voice," he claimed.
Read this also | MCD Elections 2022: Aam Aadmi Party launches theme song for civic polls