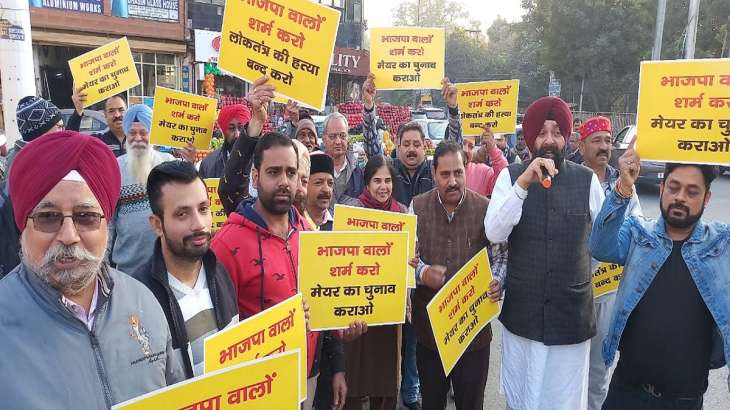 MCD Mayor Election 2023: The Aam Aadmi Party (AAP) on Saturday took out a 'padayatra' in all the 70 assembly constituencies of Delhi to protest against the repeated delay in the election of mayor by the Bharatiya Janata Party (BJP). The party accused the BJP of using hooliganism and conspiring to prevent the elections from happening twice. This is not only an insult to the mandate of two crore people of Delhi, but it also wastes their time.
Through these padyatras and protests, AAP told the people of Delhi how the BJP was obstructing the democratic process by obstructing the smooth functioning of the Municipal Corporation of Delhi (MCD) House and preventing the election of the mayor from taking place.
AAP insisted that BJP does not want AAP mayor in Delhi because it does not want work to be done and Delhi free from garbage.
AAP MLA and MCD in-charge Durgesh Pathak said, 'BJP wants to maintain control over all aspects of Delhi. Troubled by BJP's mismanagement in MCD for 15 years, the people of Delhi have now given majority to Aam Aadmi Party. in MCD elections. However, the BJP is unable to accept this result and is determined to keep the MCD under its control at any cost.
"That is why, despite the declaration of the results of the MCD election a month ago, the BJP continues to obstruct the formation of the AAP government and the appointment of the AAP Mayor. The MCD House has been called twice. The election of the Mayor, but The BJP keeps on obstructing the process by creating anarchy and resorting to hooliganism.
He also said, "We find this act both shameful and disrespectful to the people's verdict. The Aam Aadmi Party will not tolerate this behavior of the BJP in Delhi. Our message to the BJP is clear: Delhi should not be denied its right." Do it." Mayor. We urged the BJP to allow the election of the mayor and respect the will of the people.
Aadil Ahmed Khan, a senior AAP leader in one of the assembly constituencies, said, "The BJP has been in control of the MCD for the last 15 years. Fed up with the arrogance of the BJP, the people of Delhi gave a massive majority to the BJP. Aam Aadmi Party in 2022 MCD elections. The BJP doesn't want a mayor in Delhi because it doesn't want the city to be garbage free, or for the development and construction of roads and drains to come under the purview of the MCD."
(with inputs from agencies)
Read also: AAP government's mega project to transform Delhi's 1,400-km roads to begin on April 1
Read also: AAP government making concerted efforts to make Punjab healthy: Chief Minister Mann